Surgery User Interface for Tracking and Efficiency (SUITE)
is a surgical case management and scheduling applications that is designed for NoSQL and VistA systems. SUITE is used for scheduling, planning and managing of surgical cases, resources and equipment. SUITE provides an integrate surgical schedule display, provide planning support information (e.g., preference information and OR room specifications), and surgical case management to ensure that all needed personnel, equipment, supplies, instruments, implants, etc. are available on the day of surgery.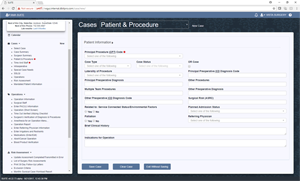 - - - - - - - - - - - - - - - - - - - - - - - - - - - - - -
Chemotherapy Ordering Management System (COMS)
is a web-based application that is fully integrated with VistA and NoSQL data sources. It provides a standard processing for integrated patient treatment management, template creation and sharing, pharmacy ordering, drug administration, patient scheduling, and treatment reports for Oncology practice.
Overall COMS Functionality:
Chemotherapy Template Order Source - a central library of chemotherapy regimen templates that allows providers to download and modify on local level
Order Entry Management - a user-friendly system that provides dose calculation transparency and consistency of ordering regardless of treatment location
Nursing Documentation - a document of drug administration that fulfills legal/professional requirements and fulfills Joint Commission compliance
Flow Sheet - a patient-centered documentation of the administration of chemotherapy through relevant documentation and efficient display of information for multiple providers
End of Treatment Summary - a chronological history of diagnosis, treatment, changes in treatment, tumor response and patient outcomes that take 10-15 minutes to complete